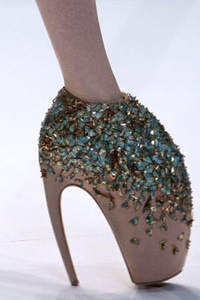 From left: Alexander McQueen on the runway, Heidi Klum in Louboutin, and Prada on the runway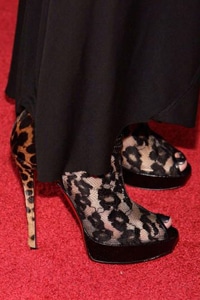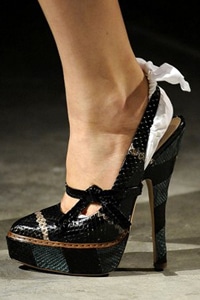 Alexander McQueen shocked fans when he debuted the infamous 10 inch "armadillo" heels in his Spring 2010 runway show. The shoes later appeared on Lady GaGa's feet in the music video for Bad Romance – and while she was dancing, no less. Not quite as tall, but perhaps equally impressive, Louboutin's 7 inch high 'Bridget' bootie showed up on a pregnant Heidi Klum at a pre-Emmy party. As fashion becomes continuously about pushing boundaries, trends like these beg the question: Are ultra-high heels actually wearable?
I love heels. At 5'2″, they make me the height of an average person, and as a curvy girl, they make my legs look longer and leaner. They are also perfect for pulling together any outfit and making it look polished and purposeful, even if it consists of jeans and a t-shirt. However, at 5'2″, I am also not used to being very high off of the ground, and struggle sometimes to wear 4 inch heels for more than a couple of hours. That said, more expensive pairs of heels are said to be more comfortable, despite their heel height, than cheaper (lower heeled) shoes. So it's a toss-up.
For those daring enough, the key is certainly comfort and keeping the rest of the outfit classy. Before wearing the shoes, try them out at home for an afternoon to spot any problems. Heel liners are perfect for any gaps between the heel and the back of the shoe, and partial or full insoles provide some cushioning for the foot to ease any stress. The height of the heel begs for a streamlined look, but ensure that whatever you wear, your hemline is not too short. Anything shorter than mid-thigh is almost certainly a no-no.
Here are two outfits I'd love to wear with ultra-high heels:
Outfit #1: Out and About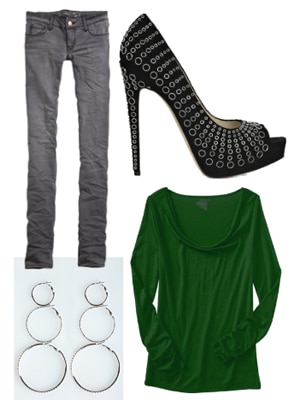 Product Information: Grey Skinny Jeans: American Eagle, 6 Inch Heels: Brian Atwood, Green Top: Old Navy, Graduated Hoop Earrings: Charlotte Russe
Outfit #2: Classy and Dressy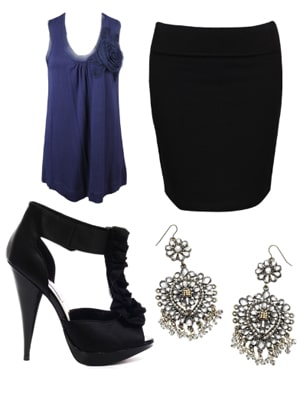 Product Information: Rosette Top: Forever 21, Pencil Skirt: Forever 21, 5 3/4 Inch Black Satin Heels: Steve Madden, Chandelier Earrings: Accessorize
What do you think? What do your feet think?
Would you wear this trend? Have you tried on any of the really expensive ultra-high heels? Are they comfortable? Where do you think it's appropriate to wear super high heels, and what constitutes "super high" to you? Talk to me!