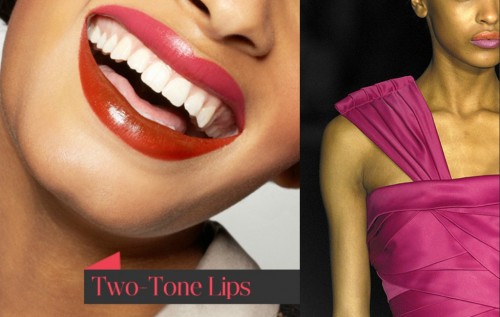 If one of your New Year's style resolutions was to be more bold with your makeup, the two-tone lip trend may be right up your alley. As seen on models at Emanuel Ungaro, as well as numerous fashion bloggers and stylists, pairing two different shades of lipstick together is an unexpected look that's perfect for spring.
Not sure how to rock this? Bright pink and coral seem to be the two most popular colors of choice, but the trend would work with any colors you have in your beauty drawer. Given that the two-tone lip is a statement, keeping the rest of your makeup neutral will ensure your look stays in balance.
Personally, I think multi-colored lipstick is an eye-catching beauty look, even though it doesn't look nearly as dramatic from a distance as it does in the up-close shots (see the models for Irena Krajina, below-right). If this look isn't enough to make your lips pucker up, don't fret: This is one beauty trend that we don't see sticking around for too long!
What do you think of two-tone lipstick?
Leave a comment below and let us know! Is this edgy look something you're excited to try or is it a bit too colorful for your taste? How would you make this work with your outfit?