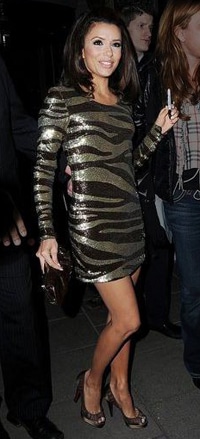 From left: Eva Longoria in London, Thakoon on the runway, Agyness Deyn backstage at Alexander Wang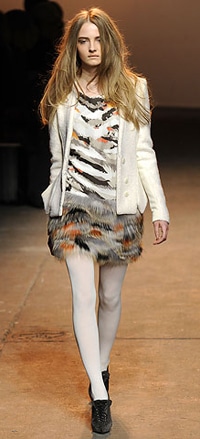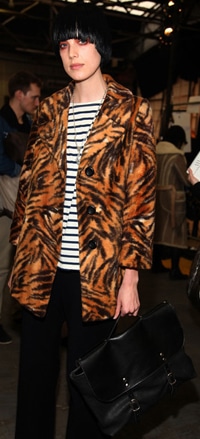 While leopard print has been ever increasing in popularity, New York Fashion Week has suddenly provided a fresh alternative: tiger print. Agyness Deyn appeared backstage at Alexander Wang's show rocking the print, while Thakoon gave the look a less literal feel in his runway show, with softer, more watercolor-inspired lines. But is tiger print really wearable?
As with any bold print, it's important to wear tiger print pieces in a way that won't overwhelm you. This means utilizing subtle or neutral accessories (particularly when wearing the orange color that tends to accompany this trend), or finding pieces (like Thakoon's) with a softer, more feminine take on tiger. Tiger print also works well on accent pieces like coats, shoes, or even sunglasses.
Here is a sample outfit incorporating tiger print:

A Feminine Take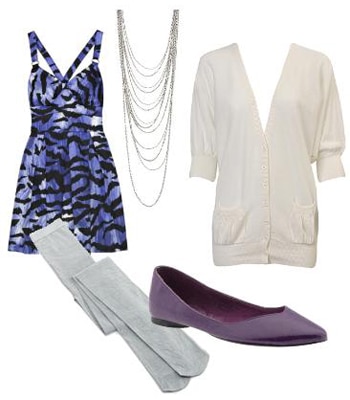 Product Information: Blue Tiger Sundress: Alice by Temperley, Silver Necklace: Forever 21, White Cardigan: Forever 21, Purple Flats: Piperlime, Silver Tights: Marui
Would you wear it?
I want to know your thoughts! Would you wear tiger print? And to what extent? Do you think animal prints as a whole are stylish or tacky? And what are your tricks to getting it right? Give us a shout out in the comments!