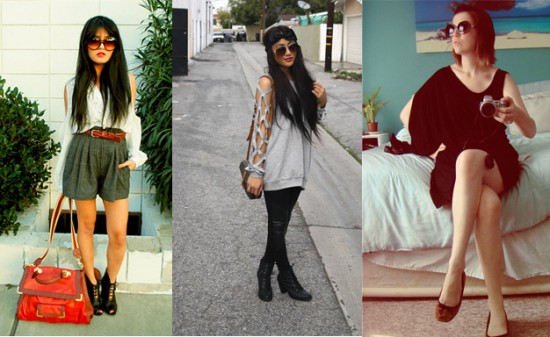 Open sleeve street style looks. Photo Credit: 1, 2, 3
A new cut-out trend has been popping up everywhere, from the ensembles of celebrities around town, to red carpet gowns, to street style looks. Slashed sleeves are this spring's hottest way to show a little bit of skin.
And it's easy to see why girls everywhere love this trend: Open sleeves are very versatile. You can wear them dressed-down or dressed-up, on a blouse top or pretty dress, or even worn grungy, with some black accessories, or glam, on a red carpet-worthy frock.
Wearing open sleeves can be a great way to transition your winter wardrobe into the warmer months. Personally, I love the street style looks (pictured above) and Blake Lively's dressy blouse (pictured below) the best. In Blake's case, the open sleeves add a little bit of sex appeal to an otherwise stuffy-looking outfit.
Blake Lively, Jessica Simpson and Rebecca Hall wearing the open sleeves trend. Photo Credit
Although it remains to be seen whether this trend will catch on in the normal college campus setting, I know I'll be searching for the perfect dress with open sleeves to wear this Spring.
What do you think about open sleeves?
How would you wear this trend? Which celebrity and street style look do you like best? Is this a trend that you see going "out" of style quickly or do you think it's timeless? Leave a comment and let us know!