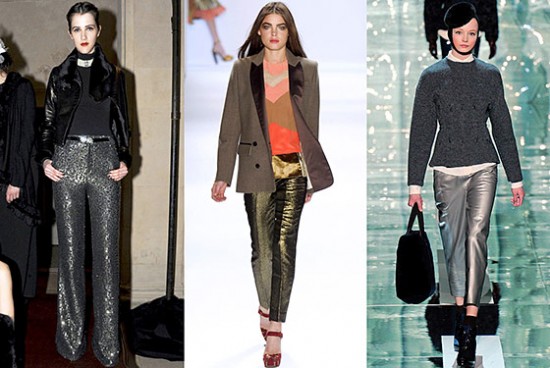 Metallic bottoms seen at Alice + Olivia, Jill Stuart and Marc Jacobs. (Photo Credit)
At this spring's New York Fashion Week, designers flaunted the metallic pant trend on the runways. This look was mostly seen in the form of trouser pants. Although they may seem difficult to wear, these pants have an ultra-edgy appeal. Some styles look like a more updated ode to the 1950s, while others seem entirely futuristic.
We're used to seeing metallics in formal wear, dresses and even shorts, so I think metallic pants are a logical next step. However, I think when wearing these pants, it's important to keep the rest of the outfit toned-down in order to not overwhelm yourself with too many trends.
This statement pant is definitely a look reserved for nightwear, but could it translate into a normal college girl's wardrobe? I think so. If a metallic pant was toned down and in a denim shape as opposed to a trouser, it could make for the perfect going-out ensemble.
Still iffy about it? Here's my take…
Product Information: Top – Rue 21, Bustier – Topshop, Pants – The Outnet, Shoes – Topshop, Bangles – Topshop, Ring – Topshop
Will you be wearing metallic pants?
Leave a comment and let's talk about this shiny, new trend! How would you wear them? Do you think these are ultra-trendy or just silly? Tell us your thoughts!