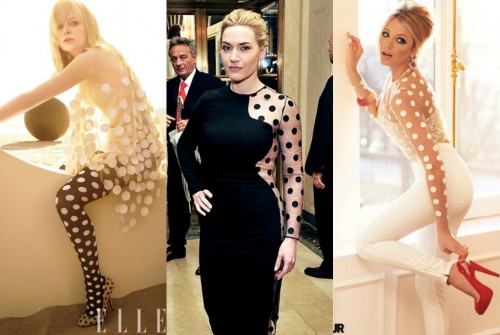 While reading through last month's Glamour Magazine, I noticed a stunning polka dot blouse on Blake Lively (pictured above-right). The top was unique, with everything sheer aside from the polka dots. I was then intrigued when I discovered a similar shirt on Emma Stone (pictured above-left) in a spread for Elle. The more I looked around, the more I spotted the sheer polka dot trend.
The blouses seen on the celebrities above lend themselves to glamour, so they aren't the most natural choice for daytime. But with subtle changes, like the amount of sheer fabric and style of the top, the trend can be made to fit a college girl's daily style. If you're looking to wear this trend to class, take key elements from the street style ensembles below. With a cute bandeau or tank underneath, the look is certain to get you on the best-dressed list of your own college.
What are your thoughts on the sheer polka dot trend?
Is this a look that you would wear? If so, how would you wear it? Are you a fan of the celebrity style or street style looks? Leave a comment below and let's talk about it!