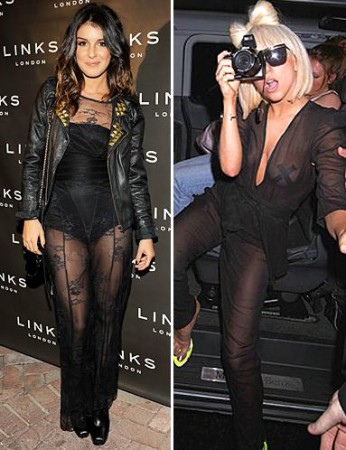 Sheer pants seen on Shenae Grimes and Lady Gaga recently. (Photo Credit)
Although College Fashion has already reported on the sheer trend, one particular sheer style that we haven't touched on has been overtaking the runways and red carpet. That's right: The transparent pants look was just too crazy not to report!
Over the past few seasons, sheer tops and dresses have truly become mainstream. Now it seems as if there are no limits on what can be made see-through. Daring celebs are now adopting these transparent pants and rocking them for evenings out.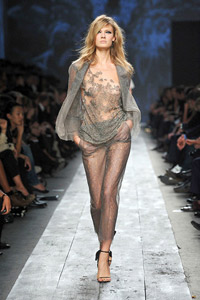 See-through pants seen at Valentino, Alexander Wang, and Givenchy. (Photo credit: 1, 2, 3)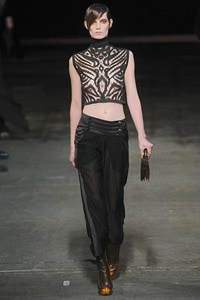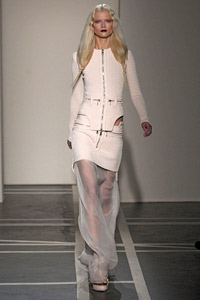 If you think about it, these are pretty much just a looser version of the sheer tights we all love. That said, I still don't see this look becoming a staple in every girl's wardrobe. Sheer pants can only be worn with select items and are not very practical for winter weather.
Also, a question comes to mind: How much skin is too much? While looks like these are expected from Lady Gaga and elite fashionistas, could a real college girl wear these pants in everyday life? My guess is that barely-there pants will remain on the runway and rarely seen elsewhere.
But no matter your stance on sheer bottoms, you have to admit, they're probably inappropriate for events where traditional dress is required – wearing these to a job interview could be disastrous (unless you are auditioning to be a backup dancer for Gaga). Don't try that at home!
So… Would You Wear Sheer Pants?
I want to know your thoughts on see through pants! Is this a fun trend to shake up your usual look, or are you not feeling it? Do you have any sheer pants? Have you ever seen anyone wearing these bottoms? What would you wear with these pants? Let us know your thoughts in a comment!