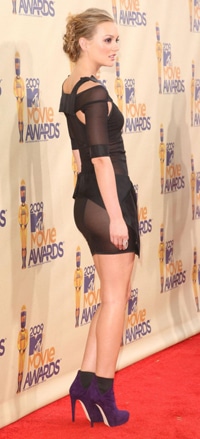 From left: Leighton Meester in Emilio De La Morena, Christian Dior on the runway, Rihanna in Gareth Pugh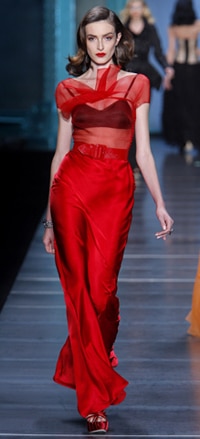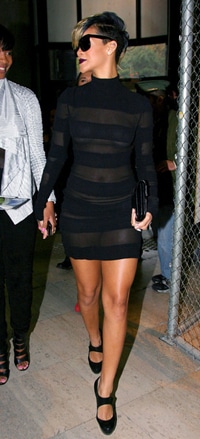 Sheer clothing is almost always a component of most designers' spring collections, with layers of soft chiffon creating dreamy silhouettes. Lately, however, the trend has turned ultra sheer, exposing bras and body parts for all to see in the name of fashion. Leighton Meester has repeatedly rocked this look, with an Emilio De La Morena dress (pictured above) and a lace Sofia Vintage top. Stars like Rihanna have also gotten in on this sexy trend.
This look is obviously not for work or school, but it's daring for a night out – whether clubbing or at a fancier event. The key is all in what you choose to show, and how you choose to show it. The Christian Dior look above is bold, but the feminine cut, delicate fabrics, and coverage in the skirt make it significantly more wearable and beautiful than one might expect. Layering a blazer over top of a sheer shirt makes for a classier look, too.
Another way to make the sheer trend wearable is choosing what you display. While Leighton Meester's dress is fairly scandalous, it is also wearable because only bits and pieces are sheer, and not obviously so. This is certainly the trick when wearing sheer attire to a more formal event, in order to make the look coy and sexy instead of obvious and promiscuous.
Personally, I love this look on others – I find it daring, but can also be soft and feminine. However, I would never be able to wear it, except perhaps to show off my -gasp- collar bone.
Check out some versions of the trend you may find wearable below.
Outfit #1: When You're Feeling Demure but Playful
Product Information: Grey Blazer: Topshop, Sheer Blouse: Tara Jarmon, Black Lace Bra: Ultimo, Golden Bangles: Sarasa, Grey Pumps: Michael Antonio, Black Draped Skirt: Xmiss, Black Tights: Gap
Outfit #2: When You're Feeling Sexy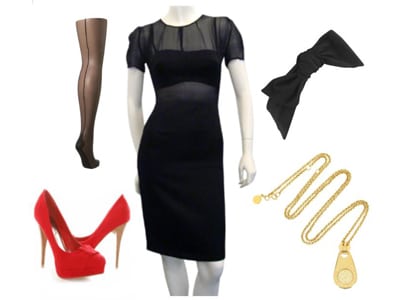 Product Information: Seamed Pantyhose: Miss Selfridge, Sheer Dress: Thakoon (a girl can dream, right?), Knotted Headband: Forever 21, Zipper Necklace: Marc by Marc Jacobs, Red Pumps: Ami Club Wear
Thoughts? Feelings? Concerns?
While I love the idea of this trend, I think it's tough to pull off unless you're on a catwalk or a red carpet. I am a fan of sheer accents though, such as sleeves.
Now I want to know what you think! Would you or do you ever wear sheer clothing? How do you pull it off? Let me know in the comments!