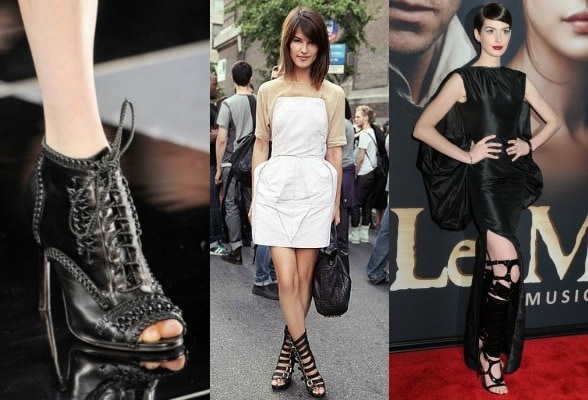 Photos: 1. Jason Wu F/W '13 via Elle, 2. Hanneli Mustaparta via Elle, 3. Anne Hathaway via Pacific Coast News
As the weather (finally!) warms up, us college girls have to rethink our footwear options. It's too warm to wear boots, yet it's still a bit too chilly to wear sandals. This past fashion week may have delivered the perfect compromise: the sandal boot. This all-encompassing term, which comprises numerous trends from the past few seasons, is either a flat, wedge, or high-heeled boot with a big peep-toe or plenty of the foot showing.
Sandal boots were everywhere at fashion week including Kenzo, 3.1 Philip Lim, Helmut Lang, and Kenneth Cole. Even though they may not be practical for traipsing through the snow, they would be perfect for summertime. These stompers are statement-makers, so be sure to rock them with confidence!
Here are our favorite under-$100 finds…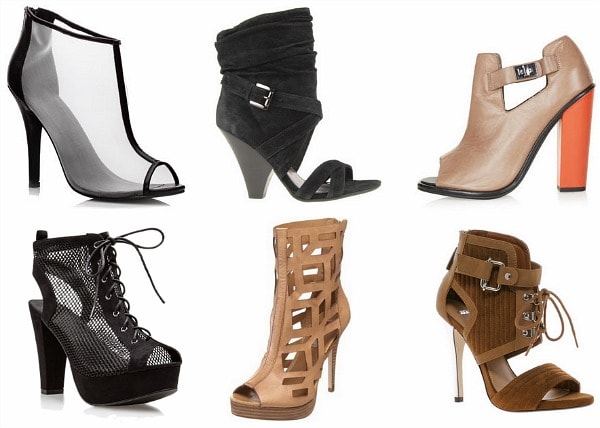 Top Row: Mesh Peep-Toe Booties – Forever 21, Call Me Sandal – Chinese Laundry, Khaki Shoeboots – Topshop
Bottom Row: Mesh Cut-out Heel Booties – Forever 21, Leverage Ankle Boot – Amazon, Sandal Boots – ASOS
We want to know what you think!
Would you wear sandal boots? Have you seen any? If so, where? How would you wear them? Are these going to go out of style quickly? Leave us a comment below and let us know your thoughts.