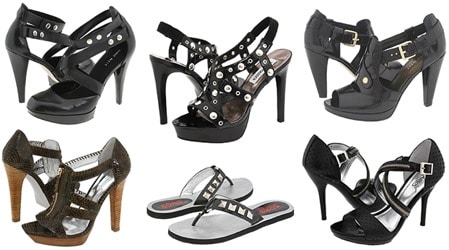 For this week's edition of Would You Wear, let's focus on one of the more daring, statement-making fashion trends of the moment: Rocker chick footwear. This trend has been everywhere lately – from the runways and streets of New York to the feet of celebrities like Mary-Kate Olsen, Gwyneth Paltrow and Nicole Richie. Also called "fetish footwear" by some fashion experts, it's truly a hot trend that's not going away anytime soon.
What do I mean by rocker chick footwear? Simple – it's all about super high heels, leather, studs, buckles, zippers, and looking like a badass. It's an envelope-pushing fashion statement that takes guts to pull off.
My thoughts? This is one trend that I personally love. I think it's for lack of a better word, fierce. My favorite way to wear these is paired with an otherwise demure outfit, because it makes these badass shoes really pop. No need to go overboard – these shoes speak for themselves. Obviously it's not a trend you'd want to wear to your 10AM math class, but it would be so much fun to rock for a night out.
So what do you think? Would you wear shoes like the ones above, or do you stick to more subdued footwear? Are you loving the rocker chick trend or is this one that you're planning to skip? Leave a comment and debate.