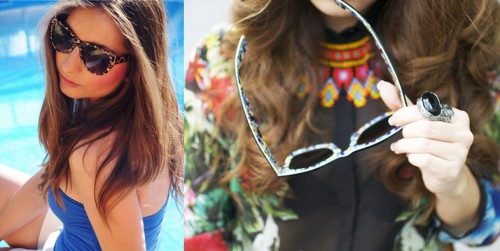 Photo Credit: Liza M. on Lookbook.nu, and Issa T. on Lookbook.nu
If you're in the market for trendy new shades this summer, nothing will make you look more fly than a pair of printed sunglasses. While they may not prompt you to toss your signature Wayfarers, cat-eyes, or aviators, a pair of plaid or floral sunnies may be a great addition to your eyewear rotation.
Skeptics must keep in mind that sunglasses are just as much of an accessory as, say, a scarf or hat. Why not throw on a pair of statement shades to add punch to your outfit? Below, we've rounded up a few of our favorite printed pairs from around the web, all of which are college-girl-budget-friendly!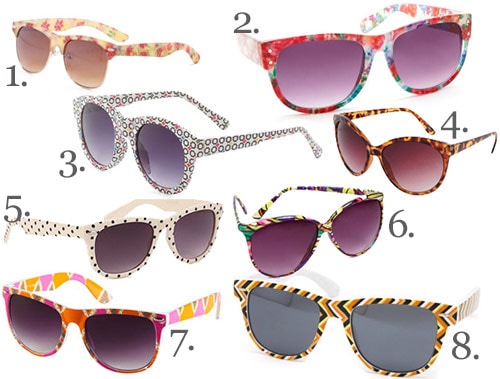 Products: 1. $11.99 at Modcloth, 2. $5.80 at Charlotte Russe, 3. $39.99 at Modcloth, 4. $5.80 at Forever 21, 5. $9.99 at PacSun, 6. $12.00 at Fred Flare, 7. $32.00 at Topshop, 8. $5.50 at Charlotte Russe
We want to know… would you wear printed sunglasses?
And if so, what would you wear them with? Which style above is your favorite? Do you own a pair? Leave a comment below and let us know!