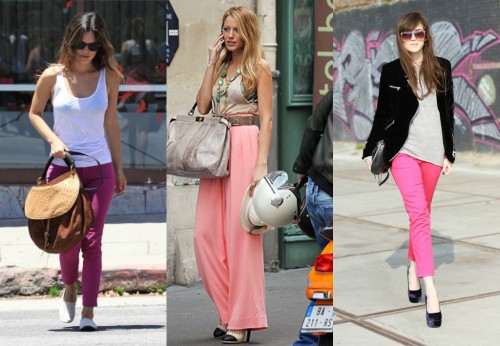 Rachel Bilson, Blake Lively, and Andy from Style Scrapbook rocking pink pants. Photo Credits: 1, 2, 3
When I was a religious watcher of Gossip Girl, Serena Van der Woodsen's outfits constantly made my jaw drop. One particular look she sported (seen on actress Blake Lively above) was high-waisted, wide-leg pink pants, which she wore while shopping Paris' luxury stores. While we may not be able to peruse the Champs Elysses with bags from Chanel and perfectly messy hair, hot pink pants can easily be worn on our own campuses.
Over the past few months, I've been noticing pink pants everywhere. Celebs (like Rachel Bilson, pictured above) and style bloggers (like Andy from Style Scrapbook, pictured above), haven't been able to get enough of them. At first I was hesitant, but now I love them – they're a great way to inject the perfect pop of color into an otherwise-neutral outfit.
Why not try them with simple black and white stripes or a trench coat?
Product Information: Top – Topshop, Jacket – H&M, Pants – Topshop, Bag – Oasis, Nail Polish – Nordstrom
So now you know what I think… what about you?
Do you think pink pants make for a hot outfit or are they a hot mess? Is this something that will quickly go out of style? Do you have any pink pants? How would you wear the trend? Let me know by leaving a comment!