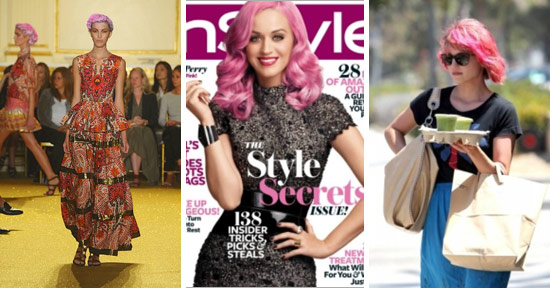 Pink hair spotted on models at Thakoon S/S '12, Katy Perry, and Glee-star Dianna Agron. Photo Credit: 1, 2, 3
When cool weather returns, our wardrobes tend to revert back to neutrals and earth tones, shunning the bright hues we wore all summer. In fall, it's tempting to dress in hues of burgundy, black, grey, brown, forest green and deep purple. Even my own friends make fun of me for purchasing yet another grey sweater.
But this season, however, is a little different. Fall 2011 has already been marked by a shift from muted hues to bright, bold colors… with one in particular standing out. That's right: pink is everywhere right now, from pink pants to our latest fave trend, pink hair. (And what better time to discuss this trend than during Breast Cancer Awareness Month?)
When Lady Gaga and Nicki Minaj don a hair color, my head doesn't even turn. But after spotting some relatively normal celebs following in their candy-colored footsteps, I couldn't help but take note. Pink hair has been seen on the likes of Sienna Miller, Katy Perry, Dianna Agron, Hayley Williams, and Rachel McAdams. Combined with appearances on the runways and in fashion spreads, one has to wonder if this trend will go from solely a rocker style to normal-chic.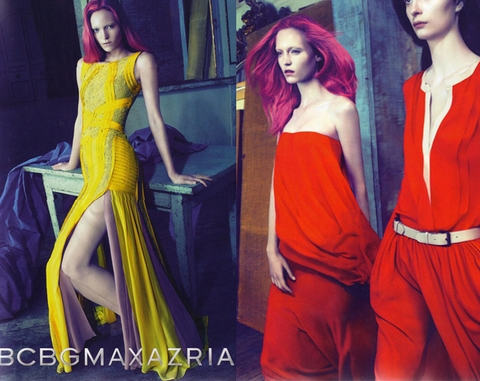 Will you be grabbing the dye anytime soon?
Leave a comment and let us know if you're into this hair trend, or if you think it'll be short-lived. Would you wear bright pink hair? (Or maybe just a streak?) Do you think it can be pulled off in real life? Which celebrity look do you like the best?