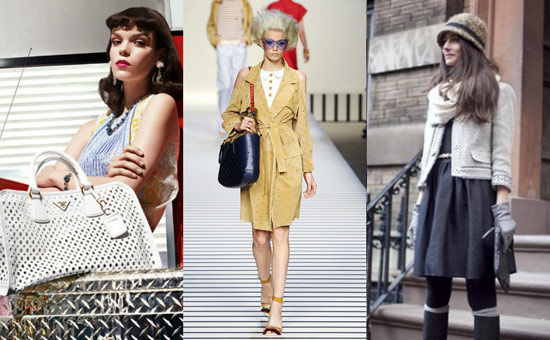 Prada's S/S 2012 perforated handbags, a perforated trench at Fendi Spring 2012, & a jacket on the street.
Photo Credits: 1, 2, 3
Perforated leather (and faux leather) is one trend that's making a huge statement this spring. From skirts to handbags, jackets, and shoes, this laser-cut look is absolutely everywhere.
We love that this trend, seen on the runways at Fendi and in Prada's new S/S 2012 handbag line, provides a way to wear a traditionally "winter" fabric into warmer temperatures. Also, if you read CF often, you'll know that we like to choose faux leather over real whenever possible, and we're happy that this trend allows for that. There are tons of perforated faux leather pieces to be found, so the trend is easy to try no matter your viewpoints.
Not sure how to rock this look? While it may be difficult to picture yourself wearing a full leather sheath dress covered in holes, there are ways to incorporate bits of it into your wardrobe through accessories. And after all, it's tough to imagine that this trend will be around for too long, so we don't recommend splurging on it unless you're really in love.
Our round-up of budget-friendly accessories to satisfy your perforated leather craving..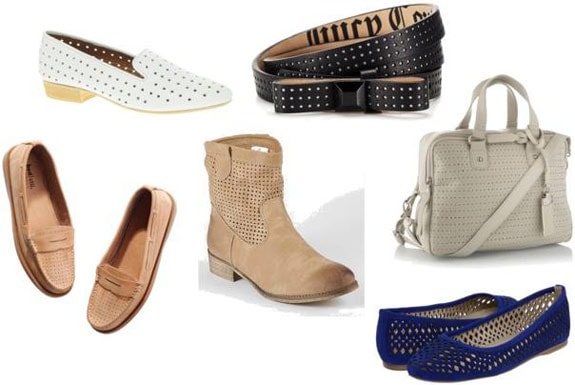 Product Information (top-left to bottom-right): Slipper Shoes – ASOS, Boater Shoes – Madewell, Belt – Juicy Couture, Boots – Buckle, Handbag – Debenhams, Flats – Zappos
Will you be rocking perforated leather this spring?
Or is this a trend you'll be sitting out? Would you wear an entire perforated look or stick to accessories? Which piece above is your favorite? Leave a comment below and let's talk about it!