The following is possibly NSFW! It features photos of Rihanna wearing pasties as part of an outfit, but no actual nudity. To see pics and read the article, click the link below.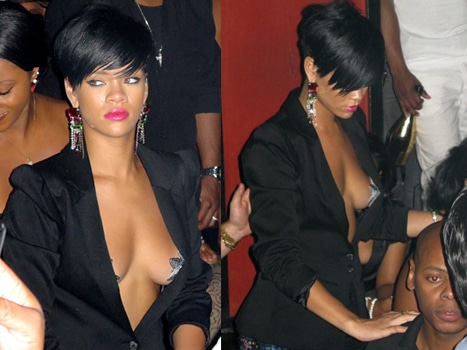 Summer fashion is always about showing a little skin, but is this new celebrity look taking it waaay too far?
Fashion trendsetter Rihanna stepped out over July 4th weekend wearing star-shaped pasties under a black blazer with nothing else underneath. She paired the look with sequined silver pants and statement earrings, but the pasties were obviously the focus.
Personally, her outfit makes me cringe. While I normally love Rihanna's style, I can't imagine what she was thinking when she decided to wear this! Pasties don't count as clothing in my book, and should NEVER substitute for putting a shirt on. This look is way too revealing. Even Rihanna (who has a perfect body) can't pull this off, so there's no way it would work on a normal person. This one gets a huge thumbs down from me.
So what do you think? Would you ever wear pasties like Rihanna, or are you with me in thinking this look is trashy with a capital t? Do you think pasties can ever work in an outfit? Leave your thoughts in the comments.