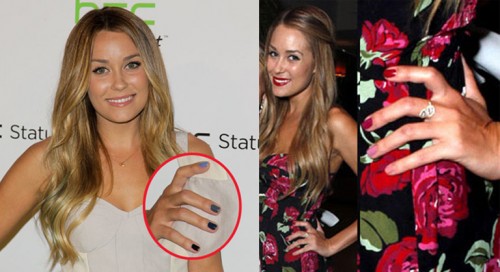 Lauren Conrad seen twice with ombre fingernails. Photo Credit: 1, 2
If you read CF regularly, chances are you are pretty familiar with ombre hair and clothing. Long maxi dresses in graduated colors and two-tone hair have been seen all over college campuses, so let's discuss the hottest new trend in ombre: fingernail polish.
If you are uninspired by your monochrome fingernails at the end of summer, the ombre look is a bold way to spice them up. The manicure consists of five different colored fingernail polishes – each a progression of the same shade from light to dark.

Lauren Conrad in particular has made ombre fingernails a buzzing topic around the internet, but are they a look you would consider painting on your own fingertips? While most college girls can't afford to buy five different bottles of nail polish in only slightly-different tones, you can create this look for less by mixing a dark tone with increasing amounts of white polish.
What are your thoughts?
Will you try the ombre fingernail polish trend? What color would you choose for your ombre manicure? Which look above is your favorite? Leave a comment below and let's talk about it!