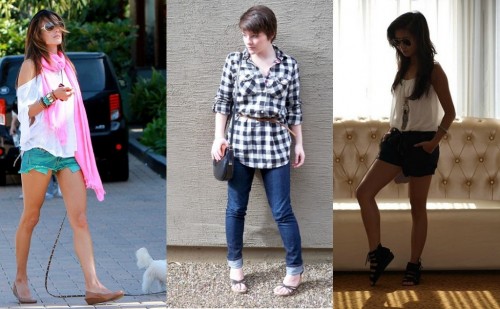 Alessandra Ambrosio rocking mini-wedges (left) and two stellar street style looks. Photo Credits: 1, 2, 3
The acceptable height for shoes has varied drastically over this past year. Stilettos and sky-high platforms have been in style for ages now, but the mid-range heights of kitten heels and flatforms have had surprising influence in the fashion world. This week, we explain the art and intrigue of the mini-wedge.
The mini-wedge, or kitten wedge, is a very low wedge-heeled shoe. These shoes add a bit of height to your look and are flattering with a range of outfits. Whether you're in a strappy sundress or cropped jeans, mini-wedges are going to work for your benefit!
Although I keep hearing, "go big or go home!" in reference to this footwear choice, I think the benefits of having a cute shoe with height and comfort is truly something to appreciate.
We found some budget-friendly mini-wedges for our fabulous readers…
Product Information: Elastic Striped Wedges – Urban Outfitters, Blue Gladiator Wedges – Delias, Cut-out Wedges – Delias, Black Sandals – Aldo
Thoughts?
Leave a comment below and let's talk about mini-wedges. Do you have any? Do you think that wedges should be tall or do you like the shorter look? What street style look is your favorite? What would you wear your mini-wedges with? Tell us below!