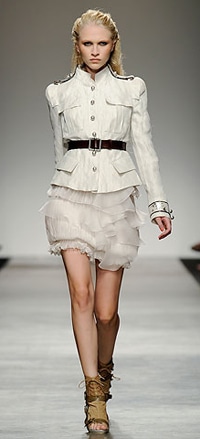 From left: Aquilano.Rimondi on the runway, Beyonce in Balmain, and Balmain on the runway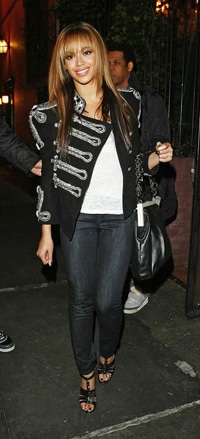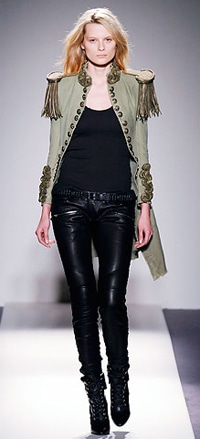 Although it's been springing up for years, the fashion world's current obsession with tailored classics and androgyny provides the perfect backdrop to give military inspired pieces the attention they deserve. Balmain often gives a stunningly glamorous military spin to their clothes on their runway, and this season was no exception. Beyonce recently turned heads when she wore one of their jackets out and about. Rihanna, ever the trendsetter, has been pushing this trend into the limelight as well with tough, military inspired looks, particularly in the video for her song, "Hard."
Personally, I think this look is absolutely perfect as spring rounds the corner and florals and pastels come to mind. Sure, snow may still be on the ground in areas that are inclined as such, but that doesn't mean we can't break out our little dresses. I think they provide the perfect contrast to the neutral structure and masculinity of military attire. A spring dress with a jacket or a floaty top with cargo pants or capris provides a stunning contrast.
Also, the style of the military item itself has been updated, as is obvious with Balmain's most recent line. Dazzling embellishments or feminine fabrics create an entirely different feel. Accessories of the military persuasion are instant updates to your traditional attire – think aviators or combat boots.
Would you wear the military trend?
So, how do you feel about the military look? I would really like to get myself an inspired blazer and some combat boots, but I'm afraid the latter would look too clunky on my short/curvy frame. What do you think? Let me know in the comments!