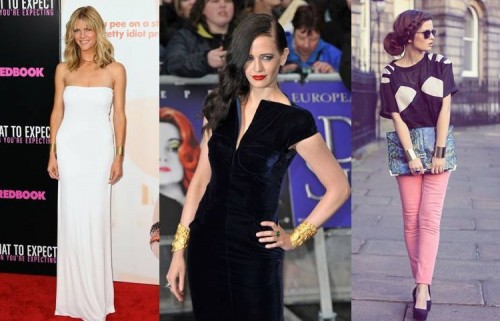 Photo Credits: 1, 2: Pacific Coast News, 3: Morven S. on Lookbook
Maybe it's because Gladiator has been on rerun lately, or because Sarah Jessica Parker donned them at the Met Gala last month, but whatever the reason, it's offical: matching cuffs are a hot trend.
Doubling up on your cuffs is certainly one way to step up your ensemble. Over-exaggerated, matching cuffs make a bold, fashion-forward statement, as the looks above demonstrate.
Our question is, would you wear this trend? I'm simply unsure on this one. To be fair, I love Brooklyn Decker's look – a simple, chic gown with statement cuffs is one thing. But personally, I don't like these cuffs for everyday wear. I love Roman history more than most, but they're a bit too Augustus Caesar-esque for me.
What are your thoughts on matching cuffs?
Would you rock them, or are they too costume-y? How would you wear them? Which look above is your favorite? Do you prefer them formal or dressed-down? Leave a comment below and let's chat about it.