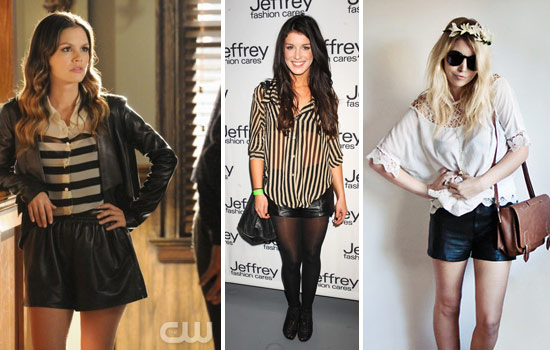 Rachel Bilson, Shenae Grimes, and a street style fashionista wearing leather shorts
Photo Credits: The CW, Pacific Coast News, Amy S. on Lookbook
This is why I love fashion. A horrible faux pas can be turned into something chic and stylish by one trendsetter in a second flat. Take leather bottoms for example: What used to come to mind was Russell Brand and countless '80s hair metal musicians jammed into too-tight leather pants. But if you ask us about leather bottoms today, we think of Rachel Bilson looking adorable on Hart of Dixie in a pair of leather shorts with a tailored jacket.
Of course, here at CF, we avoid real leather whenever possible, and are therefore loving the fake leather versions of these shorts. We love the look (and price tag) of fake leather bottoms with a plain white tee, fitted jacket, and bold accents. We especially love the juxtaposition of a feminine blouse or dainty jewelry with these rocker shorts. However, we can't help but ponder if this look will last or be a short-lived summer fad.
Here's how we'd wear it…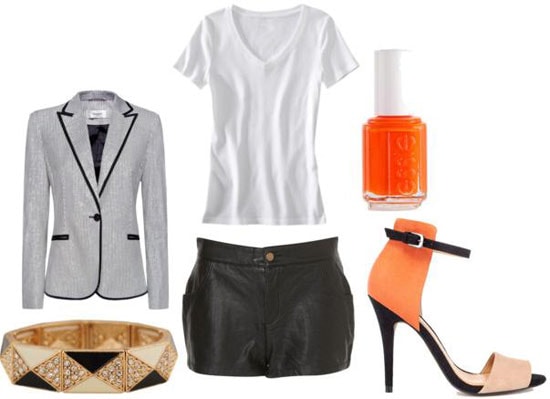 Product Information: Blazer – Mango, Top – Target, Shorts – Topshop, Shoes – Zara, Bracelet – Forever 21, Nail Polish – Zappos
…how would you rock the look?
Leave a comment below and let's talk about it! Are (faux) leather shorts totally rad, or just tremendously bad? Do you like the sample outfit? Which street style looks above look are your favorite (or least favorite)?