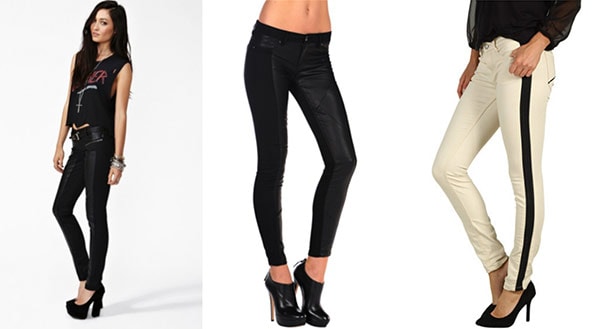 Products (L-R): 1. Dragon Moto Jeans – NastyGal, 2. Blank NYC Vegan Panelled Jeans – Pink Mascara, 3. Free People Leather Trim Jeans – Zappos
Faux leather (as well as its real counterpart) is among the trendiest fabrics of the season. You probably already own a leather jacket or some leather leggings, but if you want to stay on fashion's cutting edge, you'll want to grab some leather-paneled jeans.
A cross between a leather pant, a tuxedo pant, and a skinny jean, these pants are showing up in stores everywhere right now. They're a great way to play with the leather pants trend while staying comfortable and on budget.
Since there are so many options available, it's easy to find a leather-paneled style you like. Whether it's the tuxedo stripe down the leg, leather panels on the knees, or entire front portions covered in the stuff, there are plenty of options available. We love the above-left style from NastyGal. Friday is payday after all..
Here's how we would wear them…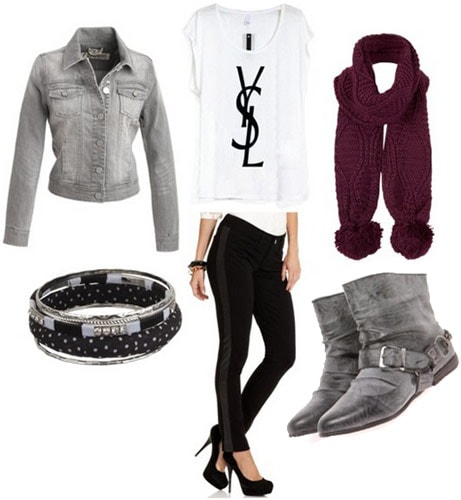 Top – Etsy, Pants – Macy's, Jacket – Delia's, Shoes – BooHoo, Scarf – Topshop, Bracelets – Maurices
Would you wear leather-paneled jeans?
Do you love this look, or is it too trendy for your taste? Which pair above is your favorite? How would YOU style them? Leave a comment below and let's discuss this trend!