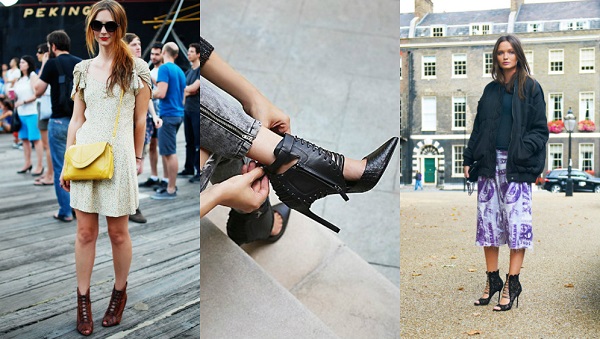 Photo Credit: 1. ELLE, 2. Free People, 3. ELLE
Booties are a bonafide wardrobe staple these days. If you're searching for a new style to spice up your ankle boot game, lace-up booties are the fiercest footwear trend of the moment.
There's something slightly sexy about showing a little bit of skin between laces. Depending on your work/internship environment, this style may not be suitable for the workplace, but are perfect for slipping on for a happy hour after clocking out.
If you're not sure how to wear these shoes, take some cues from the styles above. Pair them with skinny jeans, a skirt, or a dress. Think of all the killer looks in your closet just waiting to be paired with some laced-up ankle booties.
Our Favorites Under $70…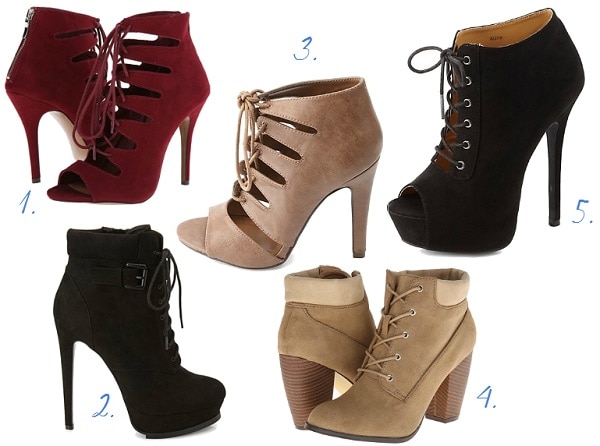 product Information: 1 – Zappos, 2 – Forever 21, 3 – Charlotte Russe, 4 – Zappos, 5 – Charlotte Russe
Would you wear lace-up booties?
Or are you anti-ankle boots? What do you think about lace-up booties as opposed to normal zip-up booties? How would you wear them? Let us know what you think in the comments section below!