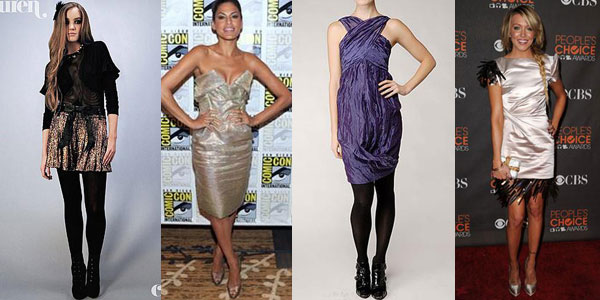 One of the hottest looks on the Fall 2010 runways was iridescent clothing and accessories. Designers such as Alexander McQueen, Gucci, and Vivenne Westwood showcased pearly fabrics on many of their looks. More affordable and mainstream stores are catching on to the trend as well, with Forever21, Zara, and H&M all offering their own shiny tops, skirts, and leggings.
Because iridescents are easily worked into formalwear, they have become increasingly popular on red carpets. Eva Mendes (pictured above), Blake Lively, and Katie Cassidy (also pictured above) have incorporated the shiny metallics into their wardrobes for recent events. And it's easy to see why – sometimes nothing is cuter than a shiny dress for a big night out!
Personally, I think iridescent eveningwear is classic, fun, and adorable. The trend is a little more tricky to wear for day because it can easily look tacky or overwhelming. However, a shiny metallic top peaking out from under a blazer could be the perfect way to add this trend into your wardrobe.
More Iridescent Options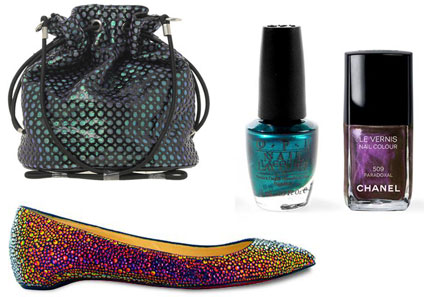 Product Info: Bag – ASOS, Aqua Polish – OPI, Purple Polish – Chanel, Flats – Christian Louboutin (Okay, not budget-friendly, but they were too gorgeous not to include!)
If you're not quite sold on the iridescent clothing trend, you can always try it out in a smaller way: Why not rock some fun, shimmery nail polish? Shimmer and glitter are two of the hottest nail polish trends for fall, with Chanel's "Paradoxical" metallic purple (shown above) leading the pack as Fall's "it" shade.
Another simple way to add iridescence to your look would be with a small iridescent clutch or wristlet bag, like the ASOS one shown above. Footwear is also an option – honestly, how amazing are those sparkly Christian Louboutin flats? I'm anticipating the Forever 21 knockoff any day now…
Would you wear iridescents?
Now that you know my thoughts on this trend, I want to know yours! Just leave a comment and let me know what you think about this branch of metallics. Do you think it's too much for daywear? How would you wear this look? Would you buy it for your wardrobe? Tell me!