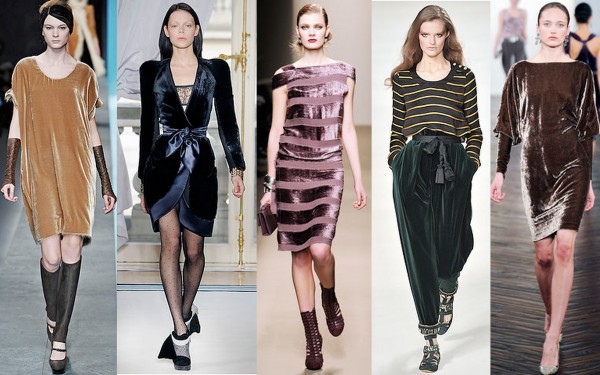 From Left: Fendi, Balenciaga, Bottega Veneta, Chloe and Ralph Lauren Fall 2009 RTW
A few weeks ago, Kristina wrote a great post on the six must-wear fabrics for the fall winter season, and the first textile on her list was velvet. Kristina was totally correct because velvet is back in a big way this season!
In my opinion, velvet is a perfect trend for winter because it is warmer than other fabrics without seeming too chunky. This makes it a fabulous choice for your holiday party dress – it's warmer than silk, and more streamlined than a chunky knit. Velvet works well on accessories too – just the smallest touch of the fabric can add spice to any outfit. This versatility has helped make velvet such an available, widespread trend.
While shopping on Black Friday, I was amazed by the number of retailers that had velvet items on the racks–everything from blazers to flats, cardigans to dresses, and even velvet lingerie was available! Even more amazing was how widespread the trend was in stores – retailers from all different sectors of the consumer demographic featured velvet garments, from shoe stores to clothing stores, department stores and even stores for men!
Here are some retail examples of products featuring velvet this season: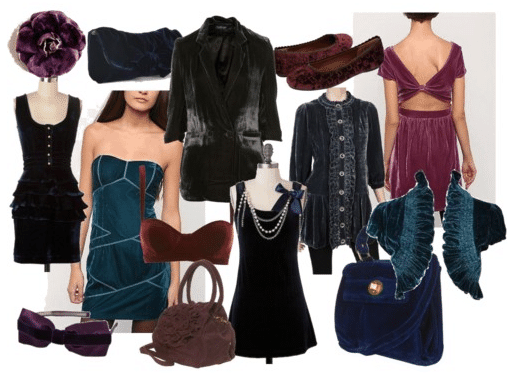 Product Information: Flower Pin, Navy Clutch, Dark Blazer, Maroon Flats, Purple Dress, Gray Dress, Teal Shrug, Cobalt Bag, Navy Pearl Dress, Mauve Bag, Red Bra, Teal Dress, Purple Headband, Navy Dress
This had me wondering–is velvet the trend for your holiday wardrobe? Do you think that it's something that everyone can pull off with a little effort? And most importantly, would you wear it? Let me know what you think–I'm still on the fence!!!