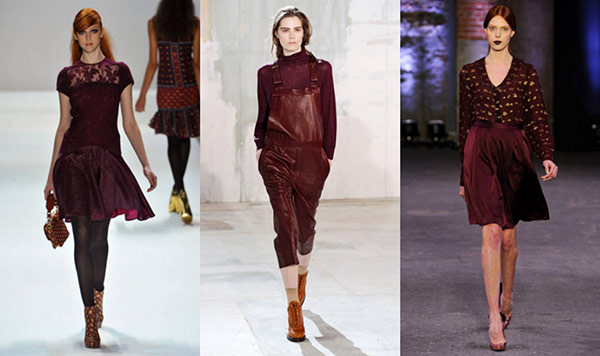 Nanette Lepore, Christian Siriano, and ACNE. All photos courtesy of Elle.
As you probably already know, oxblood is among fall's hottest color trends. Already appearing in stores, this merlot-toned hue will soon be everywhere…. but would you rock it from head to toe?
Numerous designers, including Christian Siriano and Nanette Lepore, suggested you do just that, showcasing bold, monochromatic oxblood looks in their fall collections. Utilizing multi-textured pieces ranging from leather tops to velour skirts, the designers proved that monochromatic doesn't have to mean boring – in fact, rich shades like oxblood give the monochrome look a luxurious appeal.
How does this luxe color translate into real life? It's not easy to wear a head-to-toe oxblood outfit, however the look can be super stylish when done properly. If you're uneasy about it, though, just add an oxblood piece to your wardrobe here or there.
Our favorite oxblood finds from across the web…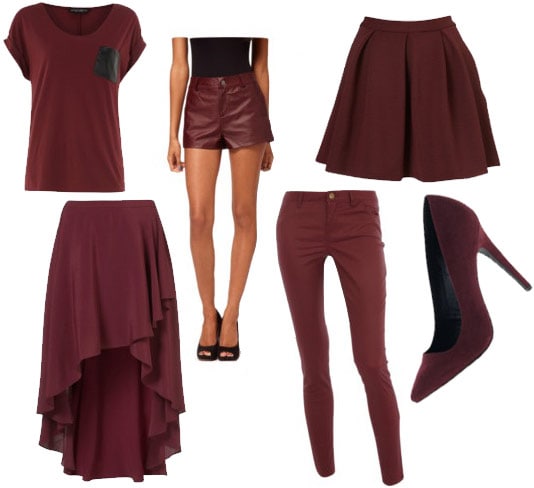 Product Information: Shirt – Dorothy Perkins, Skirt – Topshop, Shorts – ASOS, Skirt – Topshop, Jeans – Dorothy Perkins, Shoes – ASOS
Bonus: More Oxblood Items!
Will you wear oxblood this fall?
Leave a comment below and let us know! Is a monochromatic oxblood look super cool or too much for everyday life? Do you have any oxblood pieces? How do you wear them?