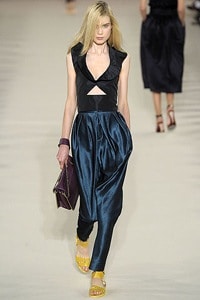 Chloe's version of harem pants
I'm not usually one to knock fashion trends, but this is one of those fads that just makes me say "huh?" For this installment of Would You Wear?, I wanted to get all of your opinions on the latest 80's inspired fashion trend.
The Spring 2009 runways featured many new trends, from bright colors and single-shoulder dresses to ripped jeans and a 1920's revival. But perhaps the strangest trend of all was the resurgence of harem pants. Yes, harem pants.. also known as drop-crotch MC Hammer style trousers.
Ultra-stylish French Vogue editor Carine Roitfeld is credited with starting this trend when she wore a pair of harem pants a few months ago. I can't help but wonder, though, if this is one of those trends that can only be popular with fashion editors & super-skinny models.
Either way, almost every major designer showed a version of these pants on their Spring 2009 runway. Chloé, Rodarte, Betsey Johnson, Proenza Schouler, and many other amazing designers all embraced the MC Hammer look.
Can you see yourself wearing harem pants? I personally can't stand this trend but I'm sure some of you could pull it off. And maybe there's something great about these that I just can't see yet…
What are your thoughts on harem pants? Would you wear them? I'd love to hear what you think, so chat, debate, and sound off in the comments.