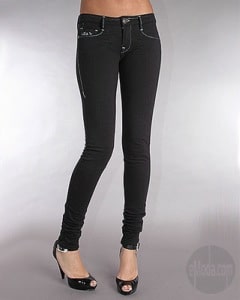 I just heard about an interesting new fashion trend and wanted to get your take on it. This will be a regular feature here at CF – I'll give you a trend and you tell me what you think. Sound good?
Here's the deal: Pur Fleece Jeans. They look just like normal jeans – the cut, the fit, the style, everything. Except, oh yeah, they're made out of cozy fleece!
Are these the perfect thing for those early-morning exam days or what?
The jeans pictured on the left are Pur's Scarlett Cigarette Cut Fleece Sweats – available at Emoda.com for $215, a pretty steep price for a pair of fleece pants. But with every expensive denim brand comes the designer knockoff – I'm willing to bet it's only a matter of time before these show up at a Forever 21 near you.
What do you think of this fashion invention? I love the idea of fleece jeans because they combine the best of both worlds. You get the comfort of a pair of sweats but the flattering cut and look of jeans. Sweatpants in class just might be okay with me if more people wore these…
What do you think?
Are you with me in thinking these are a fabulous invention or not? But most importantly, wouldyou wear them?
I want to hear your opinions in the comments section!