If you're looking for a hot trend in casual summer footwear, flat espadrilles are the look of the moment. Although these shoes may be a reminder of footwear you wore as a child, they are now making their way into women's wardrobes all over.
You may be used to seeing espadrilles as wedges and platforms, but at the moment they are most popular in flat form. Personally, I love this style – these shoes are totally versatile; they look fantastic with shorts, skirts or fun dresses. They are also super casual and ideal for running around in the summer. Just imagine how perfect they would be for playing frisbee (can't do that in heels) or cheering on your favorite baseball team.
A spunky summer outfit with flat espadrilles…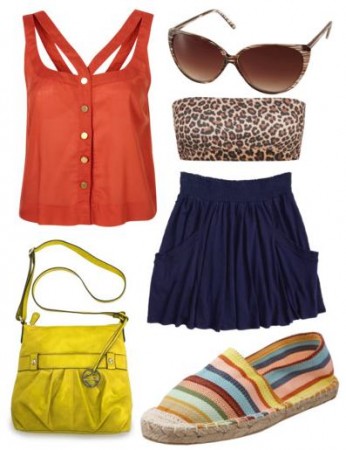 Product Information: Top – Topshop, Skirt – Delia's, Bandeau – Tilly's, Flats – Endless, Bag – Macy's, Sunglasses – Topshop
What are your thoughts?
Let's chat about flat espadrilles! Leave a comment and let me know what your thoughts are on this hot footwear trend. Do you own a pair? If so, how do you wear them? What styles would you get? Where do you wear them?