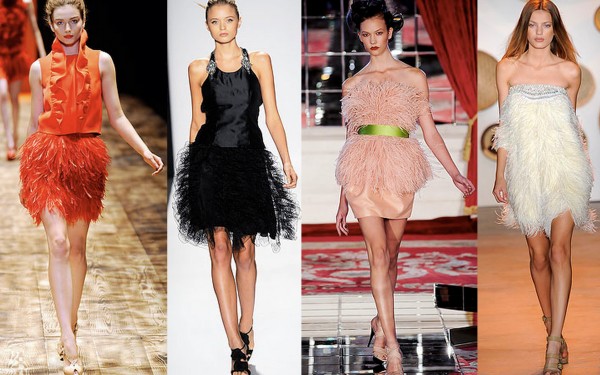 From Left: Giambattista Valli, Badgley Mischka, Jason Wu and ADAM Spring 2010 RTW
As 2009 comes to a close, I thought it would be a great time to take a moment and focus on the great things ahead of us in 2010–the trends of the future. One of the most notable designer trends to hit the spring runways was feathered everything, especially skirts and dresses.
So far, very few celebrities or models have latched on to the trend because of its impractical nature in the colder months. But a few retailers have already started integrating the feather trend into their lines in more subtle ways, which I can really appreciate. This trend does have the potential to overwhelm a girl and look completely ridiculous, but simple feathered touches on garments, like the sleeves on the dress below, can add interesting dimension to an outfit and really make it stand out.
Here are some retail examples of feathered clothing out now: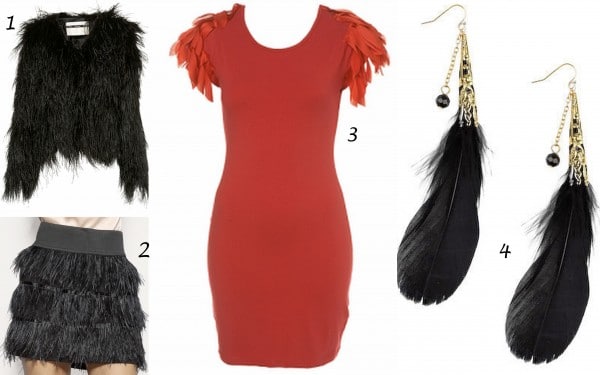 1. Topshop Jacket, 2. ASOS skirt, 3. Topshop Dress, 4. Modcloth Earrings
Personally, I think the feathered trend has the potential to be big for Spring 2010. Feathers add a touch of whimsy to any outfit and are very feminine when worn well, but they do tend to make garments cost more than usual, and are certainly VERY trendy.
What do you think–will feathers be hot this coming spring? Do you prefer just a touch of feather accents or an entire feathered dress? And most importantly–do you think you'll wear the feathered trend? Leave a comment with your thoughts, and enjoy the rest of 2009!!