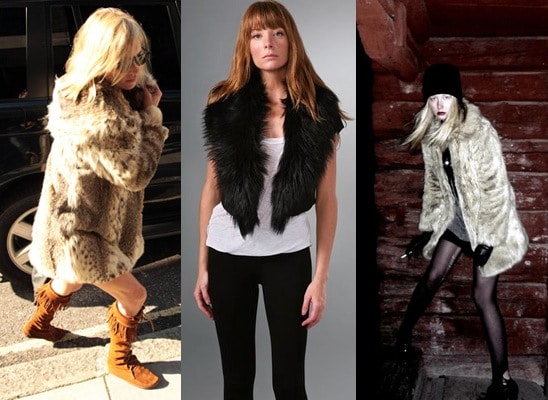 Kate Moss, a Twelfth Street by Cynthia Vincent vest, and a girl from Lookbook.nu.
Faux fur coats and vests are indisputably hot right now. With designers such as Betsey Johnson, celebrities like Rachel Zoe with her line for QVC, and even stores like H&M all touting faux fur pieces, there's no doubt that faux fur outerwear will be a hot trend for Winter 2009. But would you wear it?
The two hottest incarnations of this trend for Winter 2009 are the faux fur vest and the faux fur coat. Faux fur vests are probably the trendiest piece you can own right now, but, like most ultra-trendy items, they're also going to be short-lived. Faux fur coats will last you multiple seasons, and are probably the smartest investment if you want to try this trend.
Beyond looks, there's an ethical side to wearing faux fur that requires consumers do their homework: some products that are advertised as "faux fur" are actually made of REAL fur, often from dogs! Scary but true.
On the plus side of the ethical coin, buying faux fur helps save animals from the awful and inhumane deaths they needlessly suffer. Second, although the fur industry has tried to convince people that faux fur is bad for the environment, it's actually FAR better for the environment to buy faux instead of real fur. And ethics aside, it's simply easier on the wallet and more stylish to buy faux fur.
Personally, since I would NEVER wear real fur, I think the faux fur outerwear trend is a great thing – I'd love a faux leopard coat like Kate Moss', as well as a faux fur vest. Both are so chic for winter!
But before I buy, I'm definitely going to do my research and make sure what I'm buying is actually faux. I suggest you guys do the same if you want to wear this trend.
So what do you think? Would you wear faux fur outerwear? Do you plan to partake in this trend? If so, how would you wear a faux fur coat or vest? Leave a comment and let us know your thoughts.