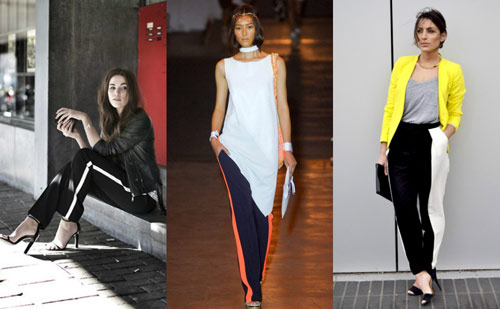 If you're not used to seeing racing stripes off the track, you're not alone. Many people, namely – me, were surprised when this style became something more than a blip on the trend radar. Track pants are now the hot new thing this season, according to designers, magazines, and the rest of the fashion world.
To clarify, dressing up track pants is a very hot look right now – there's a huge difference between styling them up like the ladies above and throwing them on to run to the corner store for a coconut water. The latter is not what we're referring to here.
Track pants and sweatpants have always gone hand in hand in my mind: great for lounging, not for wearing out. But when I see celebs and fashion icons rocking them with heels and a tailored blazer, I am… interested. That's not to say I'm ready to add the look to my rotation, but the juxtaposition of casualwear and dressiness is intriguing – and I may have to try it eventually.
Rock track pants with a sweater and cuffs…
Product Information: Sweater – H&M, Tank – Dorothy Perkins, Pants – Topshop, Shoes – Zara, Cuffs – ASOS
Would you dress up track pants?
Is the casual-meets-dressy style of heels and athleticwear something you're willing to try out? Do you think this look is best reserved for the magazines? Which look above is your favorite? Leave a comment below and let us know!