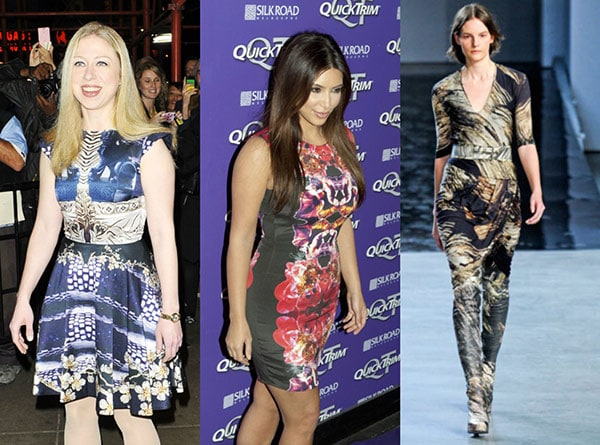 Chelsea Clinton & Kim Kardashian via Pacific Coast News, Helmut Lang F/W 2012 via Elle
Digital prints have been a hot fashion trend for a few seasons now, and we've recently noticed them popping up with increased frequency in all of our favorite stores.
In case you didn't know, digital prints are dramatic motifs (often from photographs) made on a computer for a specific garment. For fashion designers, a big advantage of digital prints is that they provide a uniform look across garments of all sizes. Whereas most clothes are cut from the same pre-printed textiles, which can lead to imperfections and variations in the finished pieces, digital prints can be scaled to fit a garment precisely, meaning each piece always looks exactly as the designer intended.
The most popular styles of digital prints are bold, almost psychedelic motifs. Designers like Alexander McQueen, Clover Canyon, and Helmut Lang have made them increasingly popular in recent seasons.
Our favorite digital print picks: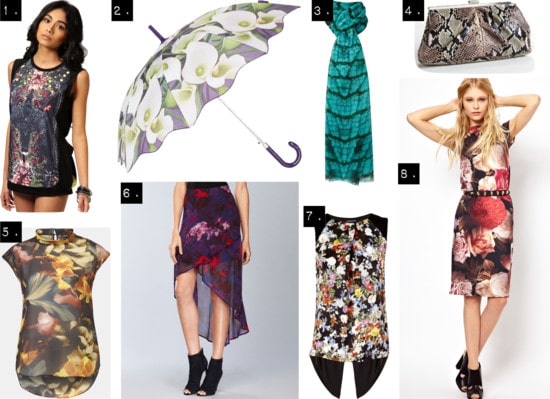 Digital Print picks by collegefashion featuring a midi dress
Product Information: 1. Boohoo.com, 2. Topshop, 3. House of Fraser, 4. Nordstrom, 5. Nordstrom, 6. Macy's, 7. John Lewis, 8. ASOS
Would you wear digital prints?
Do you think digital prints are a cool trend or just too visually heavy? Do you like the precise look of these prints, or are these pieces too cookie-cutter for your taste? Do you prefer a little imperfection in your clothing? We want the details, so leave us a note below.