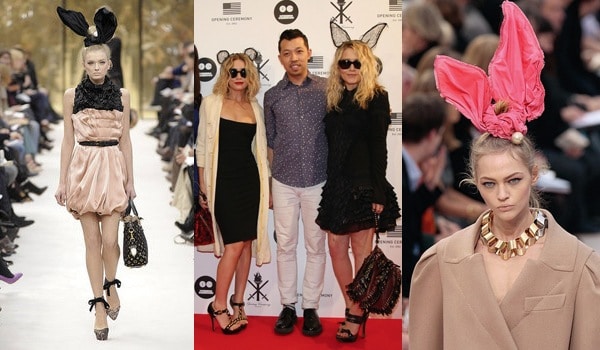 Louis Vuitton Fall 2009 RTW, Mary-Kate and Ashley Olsen at the Opening Ceremony party, LV Fall '09 RTW
Designers like Marc Jacobs are known to push fashion boundaries and send us outside our sartorial comfort zones. That's part of what makes them so great – constant designer innovation means more experimentation and new trends to try in real life.
But are designer bunny ears a fashion risk worth taking or too editorial for normal-person wear? You be the judge in this week's Would You Wear.
The whole designer bunny ears trend can be credited to Louis Vuitton Fall 2009, where designer Marc Jacobs sent various bunny-eared models down the runway. According to Jacobs, who finally explained the bunny ears this summer, the idea came about almost by accident, when he saw a member of his design team wearing fabric tied around her head in a bow that resembled ears. In the interview, Jacobs said "I like the kind of Playboy, French coquette aspect to it."
Following in Marc's footsteps, famous hat designer Maison Michel did a line of veiled animal ear headbands, which were spotted recently on the always fashion-forward Olsen twins at an Opening Ceremony party.
Personally, I think this trend is adorable, but I don't think I'd ever wear a pair in real life! I might make an exception for a more toned-down, bow-like version like this LV headband option, but unfortunately it's a little out of my budget right now. What about you?
Would you wear designer bunny ears if money was no object? Do you think they're real-life wearable, or are they good for editorials and fashion parties only? Leave a comment and let us know what you think!