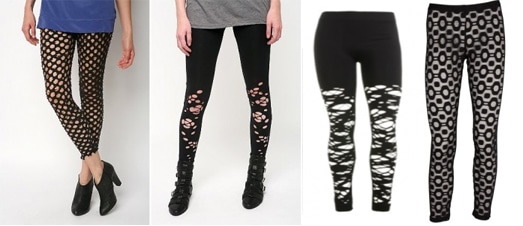 Cutout leggings have been everywhere lately. While leggings that show off some skin are sexy and fashion-forward, are they too much for every day? You be the judge in this week's edition of Would You Wear.
Over the past few months, stars like Lady GaGa and Rihanna have been spotted rocking leggings with holes in them. The look is sexy and reminiscent of the ripped jeans trend we've seen so much this season. Rihanna's leggings are the famous Rodarte thigh-high cutouts, while Lady GaGa's leggings pictured above look like a DIY job, (although they might be a Christian Siriano creation – he makes most of her stage costumes.) Cutout leggings were also on the runways at Alexander Wang (pictured center above).
Personally I think this look is hot, but I don't know if these leggings are really real-life wearable. The cutouts might not be so flattering unless your legs are super tan and toned like Rihanna's, and they could definitely look trashy if worn the wrong way. They could work for a night out, but I don't think I'd wear them during the day.
What do you think of cutout leggings? Would you wear them? If so, what would you wear them with? Would you wear them during the day, or just for a night out? Let me know what you think of this trend in the comments section!