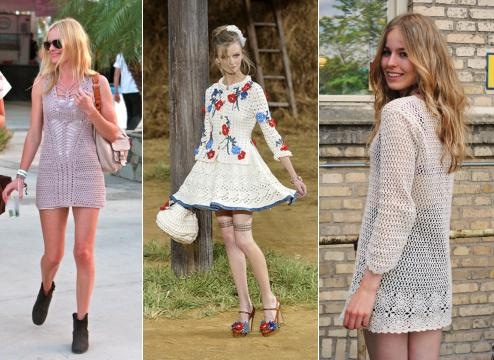 1. Kate Bosworth at Coachella, 2. Chanel Spring 2010 RTW, 3. Frida J. via Lookbook
Although it is usually associated with doilies and blankets, crochet has gotten a chic makeover for spring and summer and is now a bona fide trend.
This trend is available in a wide variety of styles, patterns and textures, so there's a crochet look out there for everyone. While some crocheted pieces might be too heavy for warm weather, there are plenty of lightweight crochet pieces that are ideal for summer. Just remember that layering is the key for most crochet clothing because it is see-through!
I personally love this trend. I love how crochet is fashionable with a sort of homespun twist and I am really loving all the crocheted accessories that are out there– it's a super-easy way to incorporate this look into your wardrobe with just one or two pieces.
Want to see more? Still not sure if crochet is for you? Check out these crocheted pieces:
You can go all out…
Product Information: Dress- Topshop, Vest- Anthropologie, Skirt- Alloy, Tank- stylesforless.com, Top- Forever 21, Bikini- The Outnet
…or just add accessories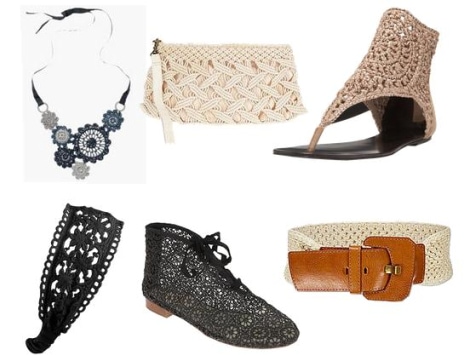 Product Information: Necklace- Toast, Clutch- Urban Outfitters, Sandals- Bergdorf Goodman, Headwrap- Forever 21, Booties- Urban Outfitters, Belt- Buckle
Are you a fan of crochet?
What do you think of this trend? Do you want to try it out? Do you already have some crochet pieces in your wardrobe? Would you rather try crochet accessories? Be sure to leave a comment and let us know your thoughts!