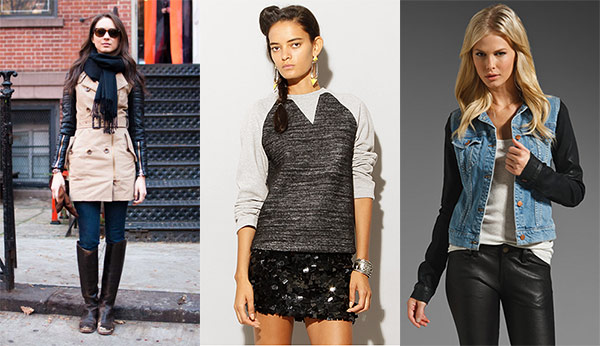 Photo Credits: 1. ELLE, 2. Paul and Alice via Pixie Market, 3. J Brand via Revolve
Colorblocking is one trend that refuses to die. Every time we think designers have found every conceivable way to color block a piece, they surprise us with a new one. The latest way to trend-ify your wardrobe is to colorblock your sleeves. That's right, contrasting sleeves are among the hippest ways to keep warm this season.
Whether they're adorning a denim jacket, trench coat, dress, or blouse, contrasting sleeves will… well, make your top pop. Personally, we can't get enough of the looks above and are planning to try this one out for ourselves.
Not sure how to wear this look? Try a contrasting sleeve jacket for an updated twist on fall outerwear. The one below incorporates faux leather, and looks great paired with some trendy colored jeans and chunky ankle booties: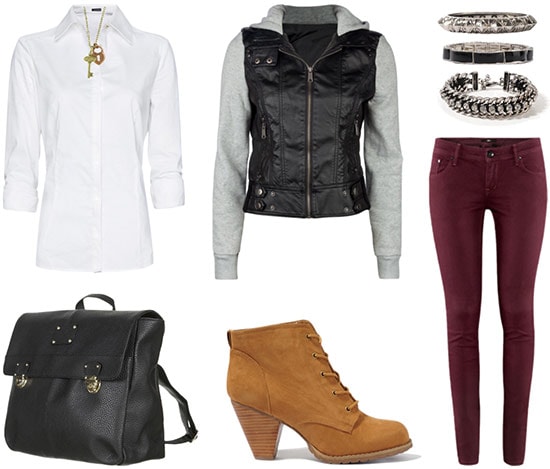 Product Information: Shirt – Mango, Necklace – 1928, Jacket – Tilly's, Bracelets – Forever 21 (Top, Middle, Bottom), Satchel Backpack – Topshop, Ankle Booties – Forever 21, Jeans – H&M
Would you wear contrasting sleeves?
Do you like this trend? If so, how would you wear it? Is this trend going to last, or do you think it will fade out quickly? Which look above is your favorite? Leave a comment below and let's talk about it!