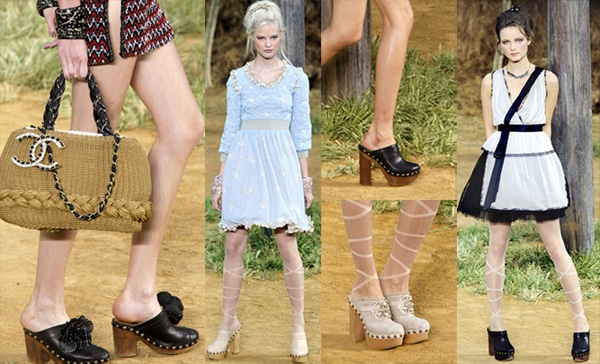 Source: Style.com
Like every girl, I love me some Chanel. So naturally, I was excited to see everything that Chanel designer Karl Lagerfeld had to offer us for the new Spring/Summer 2010 Collection. And boy, did Karl deliver. Frilly dresses? Check. Cute tights? Check. Classic French sophistication with a twist? Check. Clogs? Che-Wait, what? Yes, you read that clearly, clogs.
Chanel's 2010 Spring/Summer collection featured high heeled clogs in colors like black, white, and red. Sometimes they were adorned with florals, studded, worn with tights, or mixed with lace. Surprised? Don't be, fashion recycles itself-a lot. Clogs are back (thunderclap)- with a vengeance.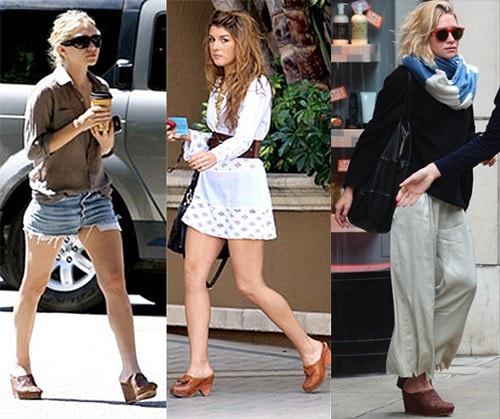 Source: Mystyle.com, Olsens Anonymous
Karl Lagerfeld isn't the only one embracing clogs. In fact, celebrities like the fashion forward Ashley Olsen and 90210 star Shenae Grimes have been spotted rocking clogs on the streets as early as this summer. So don't be too surprised if you start seeing your friends clip-clopping down the streets in them too. It's not a joke. It's fashion.
Thoughts?
I don't know about you, but I'm not really looking forward to this trend. Some styles stay in the past for a reason (parachute pants, mullets, scrunchies, etc.), you know?
For the time being, I'm going to pass. But then again, who knows? Sometimes trends take time to catch on. One day I may find a pair of cute ones that go well with something in my closet. After all, I was pretty skeptical about boyfriend jeans for a while, but now I think they're cute.
What do you guys think? Are you going to be rocking this look anytime soon? Let me know in the comments! I'm really interested in your thoughts on this trend!