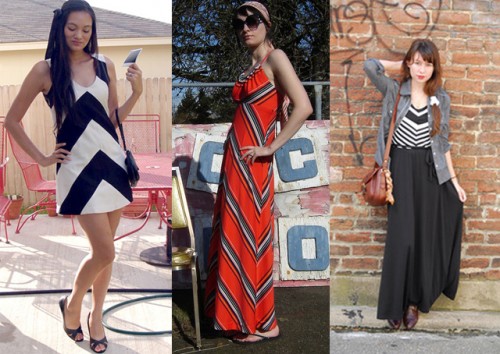 After being told for years that horizontal stripes widen and vertical stripes slim, I am left pondering where chevron stripes fit in! This dramatic diagonal pattern has been a hot trend lately, seen all over fashion blogs and the streets. Since chevron stripes are so eye-catching, the pattern makes for strong statement pieces.
The chevron stripe could be fun to pair with other prints like florals or wear alone as an outfit focal point. I think this fresh pattern makes for a a perfect summer vibe – so maybe try it on a swimsuit or beach bag!
Cute Chevron Striped Pieces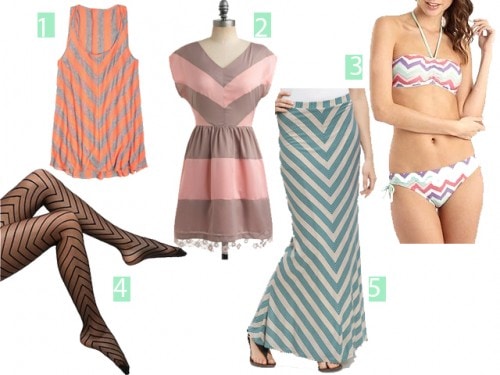 Product Information: 1 – Neon Tank from Delias, 2 – "Oh My Ganache" Dress from Modcloth, 3 – Aqua Bandeau Bikini from Debenhams, 4 – Tights from Urban Outfitters, 5 – Ella Moss Maxi Skirt from Nordstrom
Do you like chevron stripes?
Leave a comment and let's talk about it! Could you see yourself wearing this pattern? Would you wear it on a funky bikini or a pretty dress? Do you think smaller stripes are cuter or are larger stripes more your style?