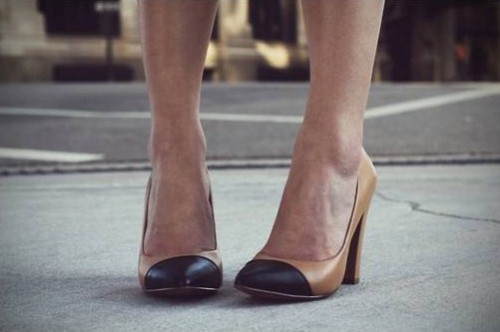 If you are looking for a ladylike way to dress up your footwear collection this spring, opt for a cap-toe shoe. Although the style of the cap-toe shoe has been around for ages, mostly in ballet flats, the look has gone viral for spring. As a fresh adornment in neons and metallics, the cap-toe is a great way to draw attention to your toes.
The beauty of the cap-toe shoe is that you can go as daring or demure as you want. If you're feeling bold, grab a pair of neon yellow pumps with a pink cap-toe detail. Playing it safe? Try a basic beige with a metallic cap; the look is fashion-forward but sweet.
Here are our favorite budget-friendly finds…
Photo Credit | Product Info: Striped Flats – ASOS, Pointy Pink Pumps – Zara, Black Studded Flats – Zappos, Silver Flats – Piperlime, Black Metallic Flats – Target, Grey Pumps – ASOS, Beige Ballerina – Zara
Will you be stepping out in cap-toe shoes?
Or will you be passing on this hot trend? What is your favorite pair from above? How do you wear yours? Leave a comment below and let's chat about cap-toes!