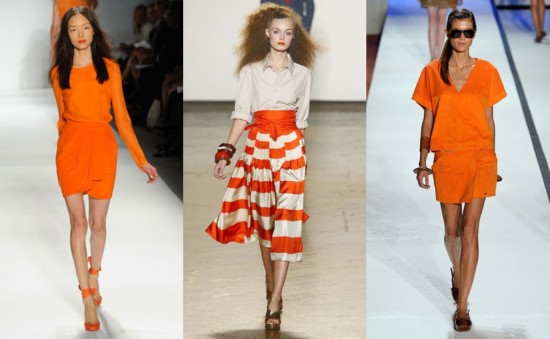 Orange seen on the runways at J. Mendel, Marc by Marc Jacobs and Lacoste.
Color trends have a way of gradually fading in and out of style with the seasons. And the most recent "it color", according to the New York Times, is bright orange. If you think about it, it makes sense that orange would be hot this season – remember last spring's orange lipstick trend? Orange clothing is the next logical step towards market saturation.
While browsing through the Spring/Summer 2011 Ready-to-Wear collections, I could immediately see why the Times picked this shade – gone were the typical spring pastel shades. Instead, white seemed to be vastly popular, often accented by pops of bright orange.
Personally, I cannot wait to see where this trend goes. While I don't own anything orange and I certainly can't recall seeing any of my friends rocking it recently, I do believe this is a color bandwagon I'm about to jump on.
In case you're looking for a simple way to mix orange into your wardrobe now…
Product Information: Top – Modcloth, Jacket – BlueFly, Leggings – Tilly's, Shoes – Juicy Couture, Hat – Ruche, Earrings – Zappos
Or why not try some orange Converse?
Product Information: Cardigan – Dorothy Perkins, Skirt – Modcloth, Shoes – Zappos, Bag – Dorothy Perkins, Bangle – Zappos, Bracelet – Zappos, Tights – Bergdorf Goodman
If the above options aren't your taste and you're still curious about trying orange but don't want to invest in any pieces quite yet, why not try some coral nail polish or tangerine lipstick? The options are endless so get creative!
What are your thoughts on bright orange for spring?
Would you wear this color? Do you own any bright orange pieces? If so, how do you wear them? Do you think you'll be rocking this trend in spring? Or are you gonna pass on this one? Make sure to leave a comment below!