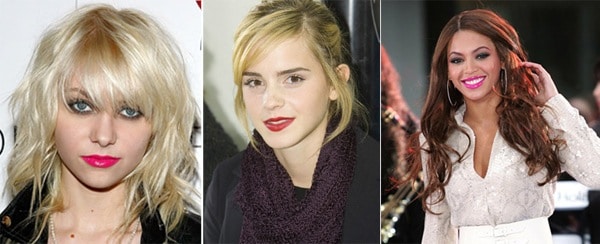 One of this spring's hottest beauty trends is bright lipstick – from neon pink to deep red, the focus is on lips right now. Celebrities like Taylor Momsen, Emma Watson, and Beyonce all seem to love the bright lipstick trend, but I want to know what you think!
Personally, I'm not a huge fan of bright lipstick. I think only works on a few people (perfect skin, classic sense of style a la Gwen Stefani and Dita von Teese), and I am definitely not one of them. I do think it's a refreshing trend, though – makeup has been all about smokey, dark eyes lately and it's nice to see something a little different emerge for spring.
What do you think? Would you wear bright lipstick, or is this a beauty trend you'd rather skip? Leave your thoughts and debate this one in the comments section!