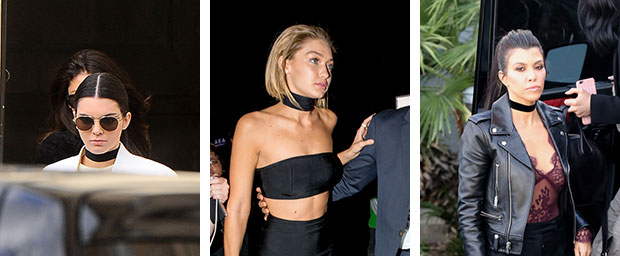 The choker trend has been going strong over the past six months, seen everywhere from the runways to the streets of every major city. Lately, we've noticed that chokers are growing thicker and bolder than ever. In particular, celebs and fashionistas have been spotted rocking thick black fabric chokers, which give off a dramatic vibe.
Personally, I'm loving this version of the choker trend. While thin chokers (plastic or with charms) are great for casual, grunge-inspired looks, I absolutely love the boldness of a thicker choker for a dressed-up ensemble. I don't typically think of chokers as polished, but these are surprisingly sophisticated.
I also love the DIY potential for these – seriously, all you need is some fabric and some scissors and you're good to go. Add a clasp at the back if you're feeling fancy. Or you can always buy one online for less than $10.
What do you think?
Are you loving these thick chokers? Would you wear one? Let me know what you think in the comments below!