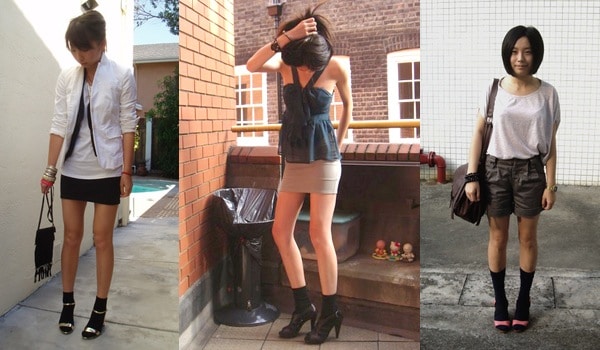 Photo credits, from left: Lulu from Everybody is Ugly, user-submitted photos from Lookbook.nu
For this week's edition of Would You Wear?, let's discuss a trend that's been popping up everywhere lately… wearing your sky-high heels with black ankle socks.
The socks and heels trend is definitely a look that's been in and out for a while, showing up everywhere from runways to the streets. It was most recently popularized when Burberry Prorsum sent the look down the runway at their Spring 2009 and Spring 2008 RTW shows.
Personally, I'm a fan of this look and think it can work well when worn carefully (see the girls pictured above). When worn with a chic bandage skirt and loose top, ankle socks and heels can look edgy and fashion-forward. It can also, however, go VERY wrong (see Ugly Betty's interpretation of the look).
I think the key is to making this trend work is to always stick to black socks. Avoid colors/white at all costs!
Also, the height of the socks matters – Lulu's socks (left photo above) hit just above the ankle, making her legs look long and lean. In the photo on the right, the socks are pulled up a little too high and shorten the leg line for a less flattering look.
What do you think? Would you wear ankle socks and heels? If so, how would you pull them off? Leave a comment and tell us what you think of this trend!