From left: Anna Friel in London, Marc by Marc Jacobs model on the runway, Kate Bosworth in Sonia Rykiel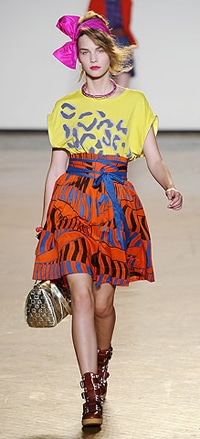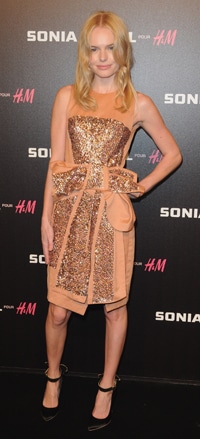 When I first saw the Sonia Rykiel dress that Kate Bosworth would later wear, I melted. It was pretty, peachy and sparkly with the most fantastic oversized bow – it reminded me of playing dress-up as a kid, except in a socially acceptable, grown-up way. Since then I have been obsessed, but have yet to wear the look myself.
The greatest thing about giant bows is that there are so many ways and places to wear them – in the front or back, on the top, waist, or bottom, on a necklace or bracelet, as part of a headband, on your shoes, and the list goes on. They are pretty and feminine (an obvious obsession of mine), and I even read in Cosmo back in the day that men love the look (if you care)!
The important thing is to keep the look playful and not costumey, so playing up its girliness is an easy way to pull it off. Another foolproof way to rock it is by keeping the rest of the look simple. However, this one is truly up to your discretion. Make your bow as comically large or small as you wish and wear it wherever you want – and have fun!
Check out two of my looks incorporating oversized bows below.
Outfit #1: Classy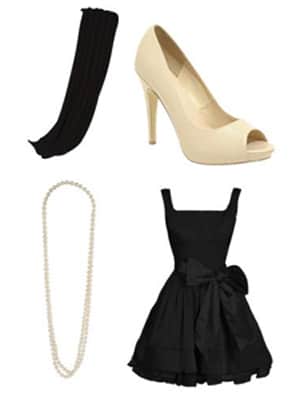 Product Information: Black Headband: Forever 21, Peep Toe Heel: ASOS, Dress with Bow: Goddiva, Pearl Necklace: Forever 21
Outfit #2: Flouncy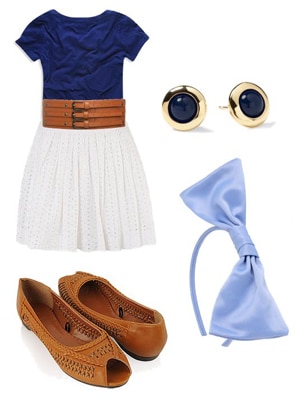 Product Information: Blue Tee: Forever 21, 3 Buckle Belt: Wet Seal, White Skirt: Forever 21, Navy Studs: Kate Spade, Bow Headband: Forever 21, Woven Flats: Forever 21
What do you think?
Would you wear an oversized bow? Do you like the look of oversized bows or do you find them too costumey? Where would you most like to wear yours? Let me know in the comments!