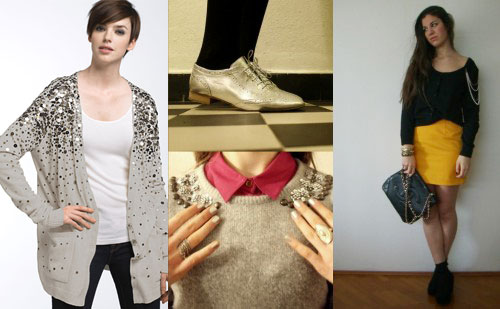 A LaROK cardigan and two street stylers rocking embellished sweaters. Photo Credits: 1, 2, 3
The doldrums of February are seldom inspiring. I find myself staring at each summer dress in my closet, fingers lingering on the breezy fabrics, yearning for warm weather, before I finally reach for yet another sweater. If you find yourself facing the same sweater-wearing rut as me, why not snazz one of your trusty ones with some embellishment?
I've been spying them everywhere: Sweaters with rhinestones, studs, chains, and beads are – dare I say it – popular? The best part about wearing a sweater with edge (other than the fact that you will be on-trend), is that you can do it yourself! There are so many great tutorials, so why not spend an afternoon embellishing a sweater of your own? Be sure to check out P.S. I Made This's tutorial on embellished gloves or Runway DIY's screw-studded sweater.
However, if you decide you're going to shop for one instead, loads of budget retailers are bound to have them. Try Zara, H&M, Forever 21, or Topshop.
Here's a sample way to style one…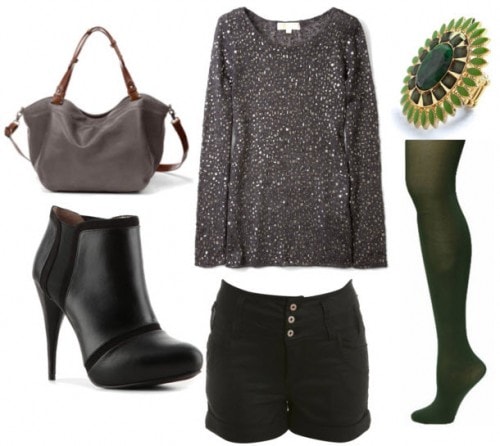 Product Information: Sweater – My Wardrobe, Tights – Shop Ruche, Shorts – Miss Selfridge, Booties – DSW, Bag – Zara, Ring – Modcloth
What are your thoughts?
Leave a comment below and let us know! Do you like embellished sweaters? Which sweater above is your favorite? Of course we want to know how you'd wear it, so describe what you'd rock one with!