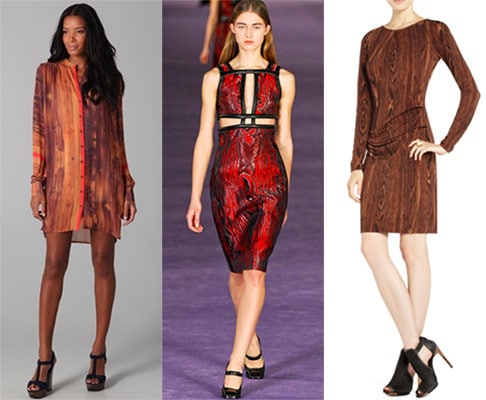 Photo Credits: Clover Canyon Dress via Shopbop, Chris Benz via Elle.com, Dress via BCBG
Conversational, dramatic prints seem to be the talk of the season, and woodgrain print is a prime example. True to its name, a woodgrain print mimicks the detail of tree rings and bark. When this intricate pattern is added to a dress or accessory, it's certain to stand out.
Woodgrain prints were big on the runways last season, seen at Chris Benz and BCBG. Woodgrain print pieces can be dressed up, but personally, we love them dressed down. Like the Clover Canyon dress in the photo above-left, a casual shirtdress in this print would be perfect for a weekend look paired with boots, tights, and your favorite fall jacket.
Would you wear woodgrain print?
Or is this look too much? Which style above do you love, and which don't you like? Would you opt for a dress or stick with this print for accessories? Leave a comment below and let us know!