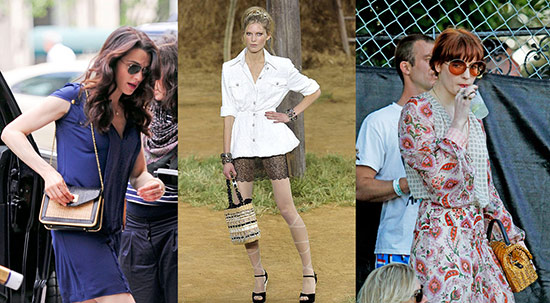 Photo Credits: 1, 3: Pacific Coast News, 2: Chanel runway via Elle.com
Patio furniture, picnic baskets, and… purses? While wicker may not traditionally be thought of as a celebrity-approved accessory material, it has recently been spotted on big name celebs like Rachel Weisz and Florence Welch. Even Karl Lagerfeld, arguably the most notable trendsetter out there, sent woven straw bags down the runway.
Wicker purses are very summery, but the style may also be able to transition into fall. Florence Welch (pictured above-right) wore hers to a recent music festival, and we couldn't like it more on her! So the question that begs an answer is: can the wicker purse trend translate from celeb style to college campuses?
So, we want to know: would you wear a wicker purse?
If yes, how would you wear it? Is this look something you'll try? Which style above is your favorite? Leave a comment below and let's talk about it!