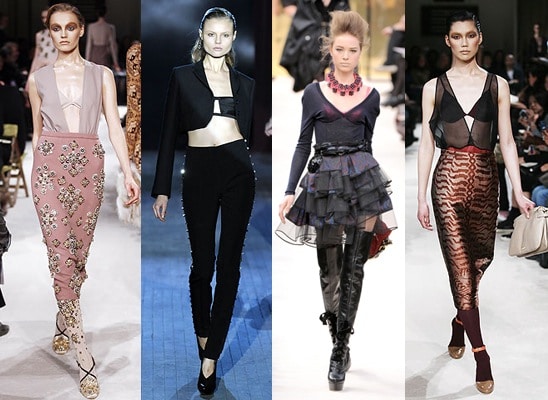 Here's another trend for you guys to debate in this week's installment of Would You Wear.
Celebrities, models, and style bloggers alike are jumping on a hot summer trend.. showing off a lacy bra under clothing. The visible bra look has been in and out for years, but it's especially trendy right now, appearing in many a fashion editorial this season. It's caught on with bloggers and celebs too: Rumi from Fashion Toast has been rocking this look constantly over the past few weeks, and just today Rihanna was spotted wearing a hot orange lacy bra under a cute button-down top in NYC.
Personally, I think this look is cute and fun for summer, so long as it's worn the right way. A lacy bra worn under a loose, basic top is sexy and fashion forward, while a satin push up bra hanging out of a too-tight top is NOT. This trend has the potential to go very wrong, very fast, so it's important to make an effort to wear it right if you're going to attempt it.
What do you think? Would you rock a visible bra? Or will you leave this one to the models this summer? Do you think there's a right and wrong way to wear this trend? Post a comment and let us know your thoughts.