This post may contain affiliate links, which means we may receive a commission if you purchase through our links. Please
read our full disclosure here
.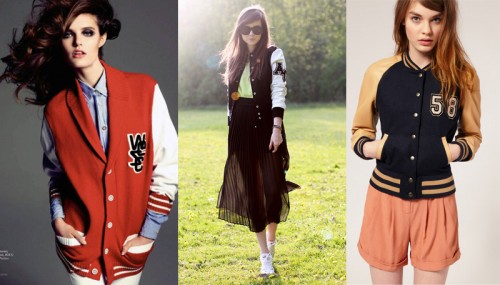 Varsity jackets in high-fashion editorials, on the street and in stores (at ASOS). Photo Credits: 1, 2
Even if you weren't a star athlete in high school, you can now look like one, thanks to the latest trend in fall outerwear. Varsity jackets are the hot new thing and you don't have to go back to HS to wear one.
I started noticing letterman jackets in fast fashion shops like Forever 21 and Urban Outfitters, then saw them popping up on street style blogs and being mentioned in comments from CF readers. It appears that us college girls aren't the only ones interested in the trend – luxury retailers have sent expensive versions of their own down the runway! (See photos below.)
Although this trend doesn't fit my personal style, I think that it can look fantastic on the right person, like the girl rocking the street style look above. I also love seeing them styled in unexpected ways, like with a skirt and tights, or with colored denim as seen below. Despite the fact that they aren't for me, I'm anticipating seeing these jackets everywhere come fall.
Letterman jackets spotted at Rag & Bone, Isabel Marant, and Alexander Wang in recent seasons.
All photos courtesy of elle.com.
Will you be rocking a varsity jacket this fall?
Leave a comment below and let me know! How would you wear a varsity jacket? Are these jackets high-school-chic or just a sad blast from the past? Would you wear one from your own high school or buy one at a store like Urban Outfitters?