Kate Moss, Olivia Wilde, and Miranda Kerr wearing tuxedo jackets. (Photo Credits: 1, 2, 3)


The tuxedo jacket is a classic menswear-inspired piece that women everywhere have began adopting into their own wardrobes. Although at first glance, they resemble regular blazers, tuxedo jackets tend to have longer arms and shiner lapels. These subtle changes have a huge impact: tuxedo jackets embody sophistication and add class to any look.
Due to their dressy nature, tuxedo jackets are perfect for adding flare to a daytime look (like Miranda Kerr, above) or wearing for a night out (see Olivia Wilde and Kate Moss, also above). There is no right or wrong way to wear this look – it all depends on your style and personality.
Kate Moss is arguably the trendsetting pioneer of the tuxedo jacket look. In fact, if you are considering getting your own tux jacket, be sure to check out the amazing options she created for her final Topshop collection.
In case you are still in need of a little tuxedo jacket inspiration…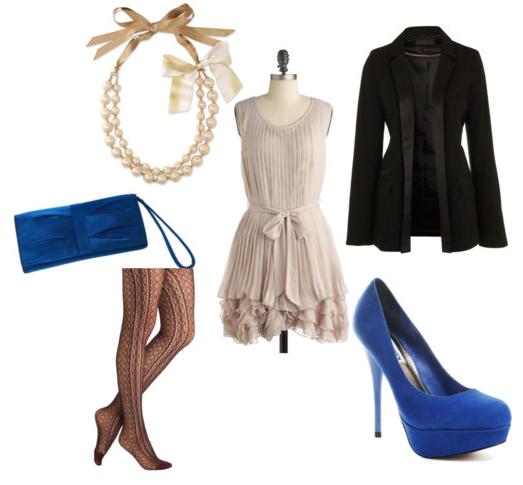 Product Information: Dress – Modcloth, Jacket – Miss Selfridge, Tights – Modcloth, Shoes – Heels, Wristlet – Debenhams, Necklace – Nordstrom
Now for the fun part! What do YOU think?
Would you wear a tuxedo jacket? Do you like the look for day or nighttime? How would you wear a tuxedo jacket? Do you think this is a look that will shortly go out of style? Leave a comment and let us know your take!